This feed contains the 10 most recent pages in the "travel" category.
[ this was written about a month ago, but I didn't get to put the pictures in before now ]
It's been 5 years since last time I was here, and it really hasn't changed much. We were three this time as well, dad, Anna and her dog, and I...
I'm saying it hasn't changed much, and it's true... and yet...
Getting there was a little bit quicker this time around, as the E4 has been modernised, and in a year, it's going to be much easier to get here by train. So, modern civilization is getting closer.

The village itself, though, and the woods surrounding it haven't changed much, still. Except for some of the people. Some of them are no longer with us since last time, and some others have become noticably older. And yet, it's the same hospitality, the same coffee (or tea if you prefer that
), the same kinds of cookies being served with it, and talking about local things as well as about what's happenng in Stockholm these days. Everyone wants to know what's new, what's as usual, what's changed.
We revisited (well, for Anna, it wasn't so much a revisit, was it now?
) some of the places, the abandoned house (we went inside this time), the log house that a cousin of my father's has, another member of the extended family.

Anna's dog has had a blast, he could run around quite a lot as he liked, and he followed us everywhere.
We didn't stay in Sonja's big house this time, as she used it herself. Instead, we stayed in the guest cottage she has. It was nice and cozy staying there, perfect place for a shorter stay-over. It worked well for us.
During the weekend, we had the pleasure of participating in a local... well, not exactly harvest, as this isn't grain or anything. It was basically cutting away grass on a larger area, making it nice and clean, but also, that grass becomes hay I believe, so it was kind of a harvest as well. The thing is that this is a pretty special event in the area, as it's done a fairly old fashioned way, cutting it down with scythes and piling it together with rakes.

Anyway, Anna and I learned to use a scythe, that was lots of fun, and easier to start than one might think.
The work wasn't really very hard, there were so many that there was plenty of time to stop and chat with someone for a little while, getting to know one, getting to know another, suddenly getting that offer to learn how to use a scythe. And everyone participates, not just older folks, but all ages, including kids that get to move that piles of grass to the place where it's hung to dry.
It was a bit special listening to the people there and the stuff that's important to them, and listen to the kids commenting on that dead deer that was found stuck in the river the morning before. It's a world quite different from living in the city and its outskirts.
Anyway, it was a nice time being here, even if it was just for three days. I should probably come back, and perhaps a little before five years have past again.
It's been a wonderful two weeks with Jacob, one where I got surprisingly much alone time with him, something I appreciate a lot!
The first week, he was on vacation, so we were free to do whatever we wanted. Science Museum, Children's museum and going for a movie ("Monsters vs Aliens") were the things we went to, other than that, we were mostly at the playgrounds or simply at home being a bit lazy but bonding all the same...
The second week was a school week, so there wasn't much time for special things, but I got to simply father him during those kinds of days as well.
The days were a bit muddied by Lisa and I having a hard time with each other (she doesn't have an easy time right now, so I can understand where some of it comes from), and me getting some rathar dark thoughts... All this because we have a continuous conflict around Jacob's summer visits to Sweden.
The trip home became another soap opera, with the hydraulics of the plane breaking down at Logan Airport... spare parts were apparently hard to be found, but about 3 hours after we were supposed to take off, the problem was repaired and verified for security, and we could board the plane for Paris. Unfortunately, it means that I'm missing my next flight to Stockholm, and I've no idea when I'll actually get home. We'll see. (had we been on announced schedule, I would have landed in France about 15 minutes ago)
(to be continued...)
I've finally ordered tickets to go visit Jacob by the end of April going into May.
New thing this year, I now have to ask the US for permission to get on board the plane to the US, using an electronic system called Electronic System for Travel Authorization (or ESTA). I only realised that there might be something more I needed to do after I bought the tickets, and I'll admit my heart was sinking at the thought of this being a process that takes many days, that there was a possibility that I wouldn't get the authorization in time...
Fortunately, I didn't need to worry, I was immediately authorized as soon as I had filled in all the data. On the other hand, it means that I'm registered in the databases at the United States Department of Homeland Security. I didn't really look forward to that, but all in all, it's more important that I visit Jacob.
Well, I though I'd write something while I was in Boston, but I didn't. Laziness, maybe, or just other priorities.
All in all, a fairly good trip, although a hard one in a way, as the realisation I don't have much of a community when I might need it. But apart from that, I had a marvelous time with Jacob, just spending time with him doing more or less normal daily stuff just as well as doing something special on weekends.
Among the more special stuff I recall, there are two that very specially come to mind now...
One was being shared with Jacob's class. They have this half hour after lunch every Tuesday when those who want to can share something that's important to them one way or another. Most share some toy that they currently enjoy or something like that. Jacob shared... me! That felt very special, and went deep into my heart. The class got to ask questions, and most were quite curious about Sweden and how long it takes to travel to Boston, obviously trying to make sense of being so far away, let alone having a parent so far away.
The other was making a road trip southward from Boston. We stopped at Fall River and had a look at battle ships, and then went on to Wakefield to see the Toe Jam Puppet Band. The latter was incredible fun, these guys know how to get kids going, dancing and generally participating! Jacob had a blast! And after the show, I got all surprised when one of the girls from the band called to Jacob and said "Hi"! It left a very nice feeling.
I didn't say it before, but I'm having a rest stop in the airport of Zürich. "Lovely airport" tells me a friend on Facebook, not sure I personally have any special feelings about it. It's calm and has a nice waiting area and a hotspot allowing me to publish this note ;-).
On the plane over from Stockholm, I had the pleasant company of a young Norwegian woman who works on her PhD in physics at the Stockholm University and was on her way to CERN. Yeah, I'm a bit envious, that's a site I'd love to see... and then, the Swiss landscape with it's soft hills all over the place, marvelous! Next time, I'm having a lay over for a few days rather than a few hours! Or I'll simply travel here to see the place. Anyway, this woman was marvelous to chit-chat a little bit with, too bad she was in a rush for her plane to Geneva, I'd have loved to have talked a little more, over a beer or a coffee, but hey, you can't get everything you want, and I'm happy with the time we had.
So for now, I plan on just killing time, surfing on my favorite sites, reading up on stuff I haven't read for a while, or...
My next flight, over to Boston, is in about 3 hours, boarding starts on 2 and a half...
I'm sitting at the Arlanda airport with half an hour to kill before I have to go through security, on my way over the big pond to the west to visit Jacob for a couple of weeks as I regularly do, every autumn and spring.
I'm tired like hell, having slept way too little last night, but a nice night it was, still. I've said goodbye to loved ones that I will miss while I'm away, but will see again when I get back to Sweden. And yet, I look forward to seeing my son again, it's been just too long.
I aim to write fairly often, let's see if I can reach that aim to my satisfaction.
What a joy it can be to see your son again, even if it's just for two weeks!
I'm currently returning from yet another visit in Boston to see my son. It was great to see him, as usual, and I just marvel at what looks to me like leaps of development (of course, I understand that it's only an illusion and that that his development really is smoother than it seem to me).
I got to meet his new teachers, as he has moved on to Pre-K, and the first teacher of the class almost double over herself over how marvelous Jacob seems to integrate and interact with the rest of the class, how positive he seems to be, always comfortable in his skin (those were her words!).
What I did with him? In practice, no so much in particular, I picked him up at school in the afternoons, played with him a lot, cooked food for him, took him out to playgrounds and to places he could bike. Basically being a parent, and we had a lovely time!
I'm discovering that for each visit, my love for this little fellow seems to deepen more. It may also be that I become more aware of my love for him as I go. I honestly don't know, but it's really not that important which it is.
I took him out once, going to the Full Moon restaurant, and it was really for selfish reasons, I wanted to meet a new friend who lives north of Boston, but it was great anyway, she's already met Jacob, seems to love him to bits, and the restaurant has a play area for kids, so Jacob could have a fun time either way.
Photos will come up as soon as I have my new album structure set up, and I hope I'll remember to update this entry with a link.
I haven't written one single line here while I was in Boston! I didn't expect that, I thought I would have one tirade after another. See, i not only expected to visit with my son, but also to have some time to process my own internal crap. And true, I have, but a lot of that have happened with specific people using e-mail, and I honeslty forgot I had a journal.
Anyhow, I've actually had a marvelous time in many ways. I got to live in this beautiful old house, owned by a wonderful couple (the hubby is a fan of Scandinavian movies, which was quite unexpected!). I'll happily go to them again.
It was wonderful to see how my son has developped, and quite sad to separate from him. He's a wonderful kid, and I do miss him a lot. I loved playing, hugging, being cozy, talking, watch him do gymnastics, play with friends, solving all the little things he needed to solve and all other things that I currently forget.
Another unexpected thing was to discover different facets in my ex. Good things. That's good, because they were probably always there, I just wouldn't see them through my filters before, which means that I've really let go of some of my issues. Hooray!
While being away from Sweden, I also had the time to process some other crap, like what's happened in me in the last few stressful months, finally let out some emotions that I had bottled up for a while, and finding myself again. Getting more grounded, basically.
Right now, I'm sitting on the plane to Newark, grounded at Logan Airport (Boston). The ongoing blizzard is just enormous! My ex called me, telling me she had seen lightning, and that the last plane that left Logan got struck by lightning and had to return, and that's why they closed the airport. Last thing I heard was that the airport itself was (partly?) out of power, and it's quite possible the same goes for parts of Boston. It's rumoured to be the worst blizzard since many decenies.
Someone is currently talking on the phone, and telling her father that the snow has cleared up (which it has), and that we probably should be on our way in not too long. I can't really tell if that last was a small lie or not. The runway is still covered with snow, and the plows are working hard to shovel it all out of the way. Well, that's a bit better than a couple of hours ago, when they thought that they would have to close the airport for the night.
What worries me the most is that I might not be in Newark in time to catch my flight to Sweden, and it would really suck if I would have to stay in Newark over night, as I've heard it's really tough to get hotel rooms in that area. Ah well, we'll see how it goes, and when I'll find myself in Sweden. I'm having good faith.
Update at 16:09 EST (22:09 CET):
we were just told that we will take off in about 10 minutes! Woohoo! That means we'll get to Newark on time, I hope. Life looks a little bit brighter.
Update on december 10, 17:06 CET:
what an adventure! So, the taking off "in 10 minutes" was quite a misunderstanding. That was when the de-icing process started, and let me tell ya, the wings were covered with about 5 inches of snow! So you can imagine the de-icing took a while (I didn't clock it, but I'm guessing something between 30 and 45 minutes). We finally took off from Logan somewhere after 5pm.
When we arrived at Newark, we quickly found out that the plane to Stockholm had already left. At this point, Mr P (who I had already started talking to back at the gate at Logan, and who I decided at this point would be a travel buddy, since we were both going to Stockholm and found ourselves in the same predicament) and I simply had to go to Continental costumer services and see what we could get. We got a flight to Paris, and the flight from there to Stockholm would be with Air France, landing us in Stockholm at about 18:15 today.
Well, we had a couple of hours to kill in Newark, so we went for a bite. Found ourselves in some kind of "Portuguese" café, where we ate a pretty good chicken in herbs with rice and fried potatoe slices, and talked. I got to tell Mr P bits and pieces of what goes on in my life and where my passion lies, and got to know that he travels a little everywhere in the world, feels really stressed out, and especially now, since he is to visit his girlfriend in Stockholm and doesn't enjoy the delay, at all. He was really happy to hear I had a strong passion for something.
On we went, flying over the Atlantic, after another delay of, IIRC, less than an hour. We weren't sitting very close, so I read a french newspaper, played a bit with the entertainment unit that was individually available on this flight (I watched "Batman begins" and played a few games), then slept a little bit. Woke up an hour or so before we landed at Roissy Charles de Gaule. Before landing, I watched the french landscape, saw the small villages, one after another, before we started seeing the northern suburbs of Paris, and that's when it hit me! Oh, ce que la France me manque! Last time I was there was about 10 years ago, and that's just too damn long! I realised I got to come back, breathe the air, smell the smells, touch the ground. It really is a part of me that I haven't been in touch with for a very long time.
Anyway, at Roissy, we got through passport control, then went to the local transfer services to get our boarding passes, and I had the immense pleasure of using French with someone beside my mom, and it was as much a pleasure to help Mr P getting his boarding pass as well (more use of French
).
After a short personal browsing in the small local bookstore, and buying 4 French comic books (Ah, la BD française!), Mr P and I met again at the gate, and simply waited until the time of boarding, me reading one of the comic books I had just purchased, him reading some magazine he had purchased.
I'm currently sitting in the plane writing this update, having just eaten a good little dinner (my only complaint would be that it was served cold, but it was fish, so it still tasted good), with a good white wine (hey, I'm on a French plane, what other excuse do I need? and it was a Côte-du-Rhône, how could I say no?), and life is currently good. Mr P is currently watching a movie on his laptop :-).
You know, it's good to have a random travel buddy like that. Makes all the waiting much less boring. You get to talk and have a social time in the middle of all the waiting and (mis)adventures. This is good. It was meant to be. I really appreciate it that Mr P is with me on this trip.
Update on december 10, 18:05 CET:
Ha! I was just offered the "Flying Blue" card, with which I can collect miles and get some free one. Cool! And I'm noticing that I'm the only one who got that offer. Must be because I spoke French with the crew. I knew speaking would have benefits, but this was a bit unexpected. Anyway, I'm signing up. Hey, if it gives me free tickets to go see my son, I'm not gonna complain!
And now, we were just informed the descent to Stockholm has started. Guess it's time I close save this update and close the laptop.
I started early today, at 5am. But hey, I was supposed to be at the airport at 7am, and it's 40 minutes to get there... or more. Today is also the day for the first real snow, it seems (there was a day or two of snow a week ago, but that went quickly. I suspect the snow has come to stay this time), so everyone was driving really carefully, me included, especially after I skidded to a stop at one crossing. That was a little scary, but fortunately harmless.
Check-in went incredibly fast, there was almost no line, so my bag was checked in in no time. So far, the experience has been just easy and comfortable.
Having never flown with Continental before, I'm always curious to see how they are. I found the security instructions to be amazingly detailed and still easy to understand. Maintainance is so-so, there were some visible traces of aging, for example my tray table on which my beverage was constantly sliding toward me.
Probably the best thing I can think of, flying with Continental, is that I basically do one big leap over the Atlantic, making that the long 9 hour haul, then there's a small trip from Newark to Boston. I much prefer that, especially on my way back, when I can use that long haul to sleep and get myself more easily back to Swedish rythm. Less jetlag can only be good, right? It's quite possible that I'll fly with Continental again, just because of that.
It will be good to see Jacob again. To see how he has grown, how he has evolved, how much he's the same or different. And plain simply, to be able to give him a hug. Gods, I've missed that!
Calm. Quiet. Beautiful. Serene, even. Hospitality. Those are the words that come to mind when I'm trying to describe my emotions about this place. I hadn't been in this kind of environment for so long, I had forgotten how it was.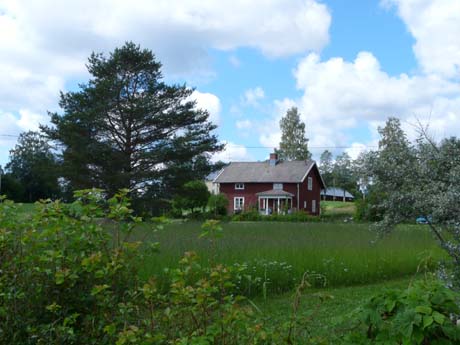 In a way, I'm privileged. I've family here. Lot's of it! It's like the whole village is almost entirely owned by family! I've a whole bunch of 2nd cousins (called "tremänning" or "syssling" in Swedish). We (dad, Eva and I) are living in one of my 2nd cousin's (her name is Sonja, pronounced So'nee-a) house, a beautiful (and big!) wooden house painted in typical red with white corners.
I've spent the last few days visiting all kinds of relatives, dad's cousins and my own 2nd cousins alike. Local shop owners, owners of a lot of land (most of it being forest), hunters, fishers, farmers. A few years ago, I had no idea my dad's family was so damn large. I've learned that he had 34 cousins in total, of which 17 are alive today, so you can imagine the amount of uncles, aunts and cousin's children he has or had! I have 56 2nd cousins (oh, and a couple of 3rd cousins)! Wow!
The hospitality of the people here is just great. Yeah, it's family, but still, coming from a large city where everyone is so damn busy, and getting together requires planning and making appointments at least a few days in advance, it's liberating to just knock on a door and be greeted with open arms, apparently always ready for a "fika" (that's basically sitting down around a table, sipping coffee, eating cookies and talk about whatever you have on your mind, which is a way of living up here in the north). And they are so obviously happy to get visitors. If you think about it, it makes sense. The northern countryside is quite isolated, with some distance between villages, or sometimes individual houses, so a visit is the little contact you have with the outer world, and has to be a blessing. Us humans really need to have this contact network, and I could feel it whenever someone came for a chat in "our" house! And then, Sonja basically just handed us her house, not really any strings attached!
It's funny, really, how one can feel more isolated in town...
Among the greates things has been watching my dad blossom. This is his childhood place, he's been telling me how Torsten (one of his cousins' son) and him have played in this farm, that sandy area, this river and so on. He connects, and it's obvious he loves and misses the countryside, that it's his real home turf. And he loves doing stuff, taking care of what needs cared for. One of the mornings, he was cutting down grass around the edges of "our" house, just because he saw it was needed and likes doing it! It reminds me of the summer house we had just a few miles north of Stockholm, that he had to sell about 20 years ago, and how he like doing similar kinds of things there. He must have been missing it! Dad's definitely not a town boy at heart, even though he partly grew up in the middle of Malmö and Stockholm.
As for me, I'm very attracted to this place. It didn't take long to realise I could live like this, and when I heard at what prices you could get a place like this (we're talking a price range that's at least 100 times lower than the corresponding thing in Stockholm, if it was at all possible to find!), my mouth started salivating!
There are just three things that need solving: 1) getting my credit record back on track (I will still need a bank loan), 2) getting a decent Internet link to the place (not at all a guarantee), and 3) being able to work from there. I realise it would not be a quick project to get this kind of place. But it definitely feels possible!
I know one thing, though: I want to come back here, at the latest next year, and I want to bring my son (he would have a blast here!).
To see all of them, check the archive-travel.